TB in the Mining Sector (TIMS) program Phase 1 completed
2018-01-05
Mineworkers in Zambia have been subjected to greater exposure to TB due to underground minework. DAPP worked in four districts namely: Solwezi, Chingola, Chililabombwe and Kitwe in collaboration with 14 Government Health facilities. The pilot TB in Mining Sector (TIMS) Package C: Screening and Active Case finding was financed by Global Fund through WITS Health Consortium via ADPP Mozambique. The program has closed now, awaiting funding for 2nd phase.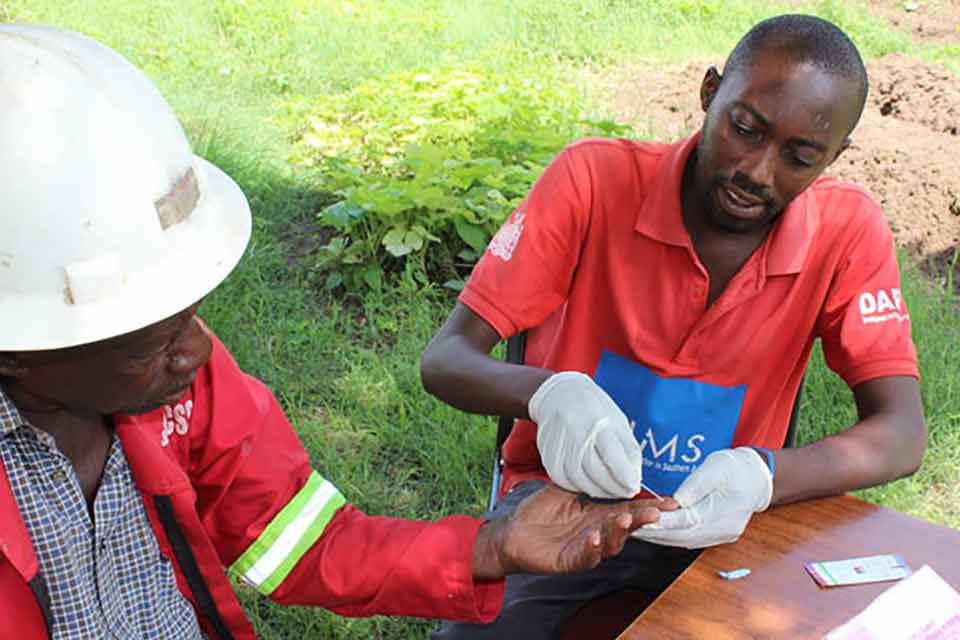 From November 2016 until December 2017, 30 Community Health Workers have screened over 54,000 mine workers, ex-mineworkers, and their families (the key population) for TB. More than 3 000 were found with TB symptoms (presumptive). Most TB cases were found among ex-mine workers, living now in the rural areas. Miners Unions, Ex-Mine Workers Union, Chiefs and councillors assisted to find the homes of miner workers and former mine workers.
The project further carried out advocacy activities including street drama to increase TB awareness. It carried out 6 programmes in each of the two community radio stations which successfully encouraged a number of people to go for TB screening. These programmes included discussions and phone in sessions. The project further used the community awareness activities to teach about healthy food, menu planning and cooking methods.
DAPP staffs collected sputum from people with symptoms for TB testing at the health facilities laboratories and DAPP brought back the results to the patients. Over 1000 people were diagnosed and 228 were found with TB. 32% of patients with TB were also found with HIV. Therefore, if the TB is not treated fast, they would suddenly pass on due to TB or develop multidrug resistant TB.
DAPP is seen as the eyes of the Health Facilities in the communities. Health Facilities refer patients to DAPP who are not following their treatment. Some were found in lack of food and could therefore not take the treatment. Some were too ill now to come back to the health facility on their own. All patients on treatment (154 patients) were initiated by DAPP into the Family Direct Observation Treatment (DOT) Program, in which family buddies observe and secure adherence to treatment and consistent care. DAPP calls upon Government to secure nutritional support to those in need as well as better regulations for the mining industry.