DAPP ZAMBIA WALKS FOR GOOD HAND HYGIENE
2023-10-17
Development Aid from People to People, DAPP Zambia on Friday joined the global community in commemorating the Global 2023 Handwashing Day to celebrate the power of clean hands in promoting good hygiene and preventing diseases.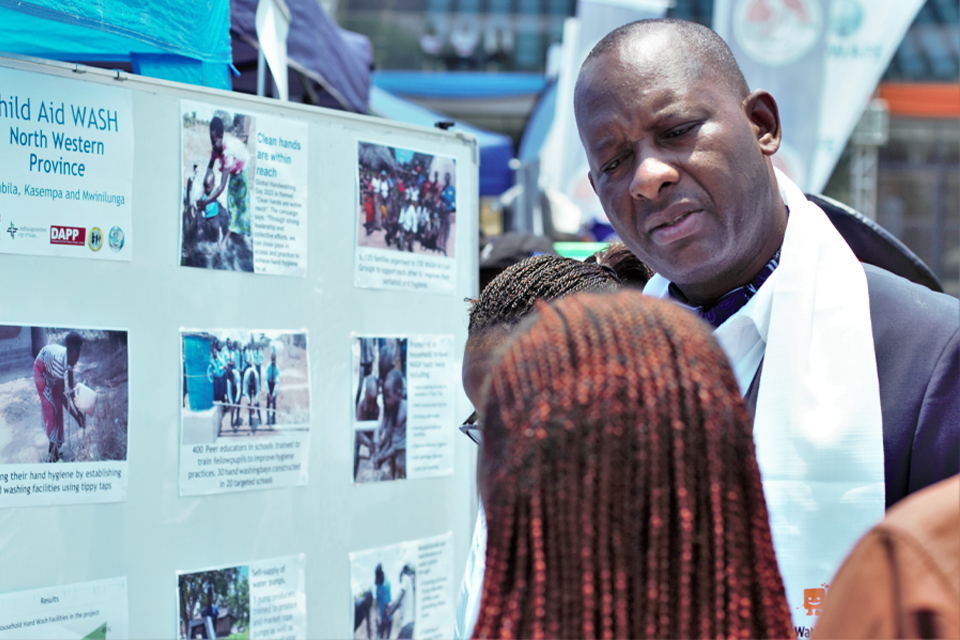 The event brought together non-organisations under the NGO WASH Forum, senior government officials, school children and influencers led by Water Development and Sanitation Minister, Mike Mposha who represented President, Hakainde Hichilema in a "walk for hygiene" from Nortmead Primary School to the Lusaka Showgrounds.
This year's commemoration under the theme; "Clean Hands are within reach" provides an opportunity to learn about the importance of washing hands with soap as the first line of defense in preventing diseases and promoting overall good health.
The Showgrounds arena was a hive of activity with songs, dances and hand washing demonstrations taking centre stage as different organisations exhibited various WASHE initiatives aimed at achieving a healthier, more hygienic Zambia.
The minister visited our stand at the commemoration to appreciate how DAPP Zambia is bringing communities and schools together in Action Groups to support each other in improving access to Water, Sanitation and Hygiene services.
Our stand demonstrated how communities are using cheaper alternatives to achieve clean hands within their reach at home and at school, including Tippy taps and ash for hand washing in the absence of soap and training school WASH Champions to promote good hygiene among learners.
In the President's keynote speech, the minister reaffirmed government's commitment to working with developmental partners to improve access to Water and Hygiene services in the country.
He said government is working towards universal water coverage as one of the factor of good hand hygiene, adding that hand washing with soap in all schools should be accelerated to promote learning.
Other key dignitaries present were Ministry of Water Development and Sanitation Permanent Secretary, Joe Kalusa and the Mayor of Lusaka, Chilando Chitangala.