"YOU ARE THE FUTURE," ZCCM-IH TELLS FORMER STREET CHILDREN AT DAPP CHILDREN'S TOWN
2023-04-27
ZCCM IH Plc has donated assorted food and nonfood items, including mealie-meal, blankets and treated-insecticide mosquito nets worth over K25, 000 to DAPP Children's Town in Chibombo.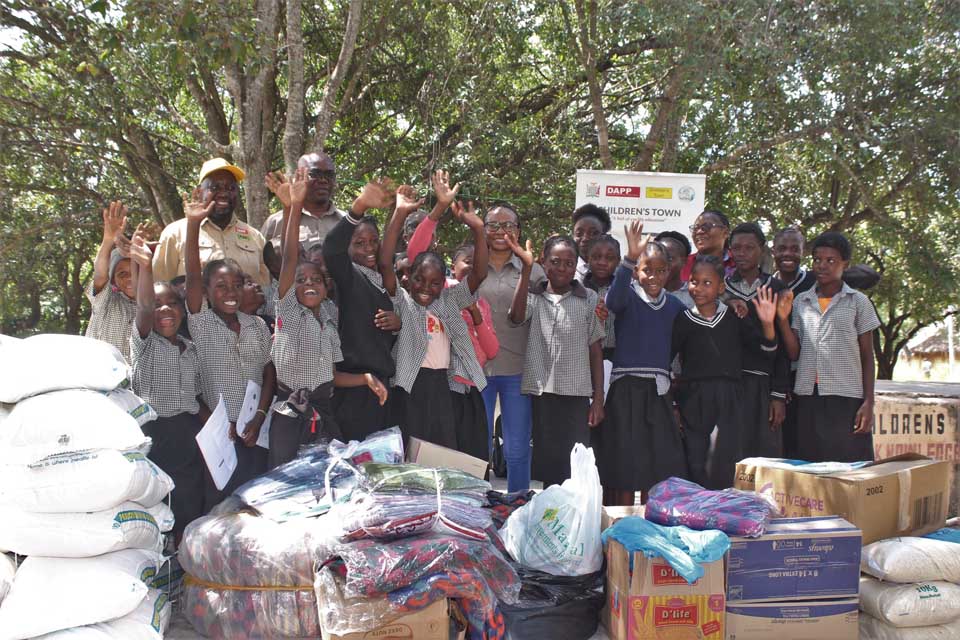 DAPP Children's Town is home to former Street Children from major towns of Zambia. Since 1990, DAPP has provided educational opportunities to hundreds of former street children, training them in agriculture, livestock management, designing and tailoring among other vocational and survival skills.
"Pick a dream that you want to become and work towards achieving it. As long as you put in the work, remember that you can achieve it. ZCCM-IH acknowledges that you are very important and never look down on yourself because you have a future and role to play in the development of this country. That is why we are here today to share with you in these items. We are not new to Children's Town, we first made a donation in 2018 and we are back this year with another donation," ZCCM-IH Corporate Officer, Kateule Nakazwe told the children at the Malambanyama based school as she led the company's delegation during the donation on Thursday.
Nakazwe further commended DAPP for the commitment towards uplifting the living standards of the most vulnerable in the community, including street children. She added that the donation is one of many examples of ZCCM-IH initiatives aimed at improving wellbeing of people across Zambia.
DAPP Resource Mobilisation Officer, Jabez Kanyanda thanked ZCCM-IH for the gesture and further called on the company to continue partnering with the organisation in its quest to give street children a home and hope for the future.
"We are grateful to ZCCM-IH for this donation. Gestures such as these are encouraging as we strive to improve the welfare of children that find themselves on the streets for various reasons. We rehabilitate the former street children through giving them a home in Children's Town, they receive life skills, are counselled and they receive vocational training. The project further carries out family unification and support them to settle either in the same or a newly identified community after the 2-year program in Children's Town," he explained.
The donation is in commemoration of the 2022 World AIDS Day in recognition of the impact of HIV/AIDS on the number of vulnerable children and orphans in Zambia.
DAPP Zambia works closely with the Ministry of General Education, Ministry of Community Development and Social Services, and the Ministry of Youth and Child Development in running the project.