RE-OFFENDING SHARPLY DROPS AMONG FORMER INMATES IN DAPP-EU SUPPORTED FACILITIES
2023-08-05
more inmates use skills acquired in nine correctional facilities to earn an honest living
Wearing her fashionable half jacket that she made out of Chitenge material, Otridah Mwila of Mansa district in Luapula province confidently stood in front of stakeholders attending a dissemination meeting that DAPP Zambia hosted on Thursday, 27th July, 2023 at Lusaka's Urban Hotel.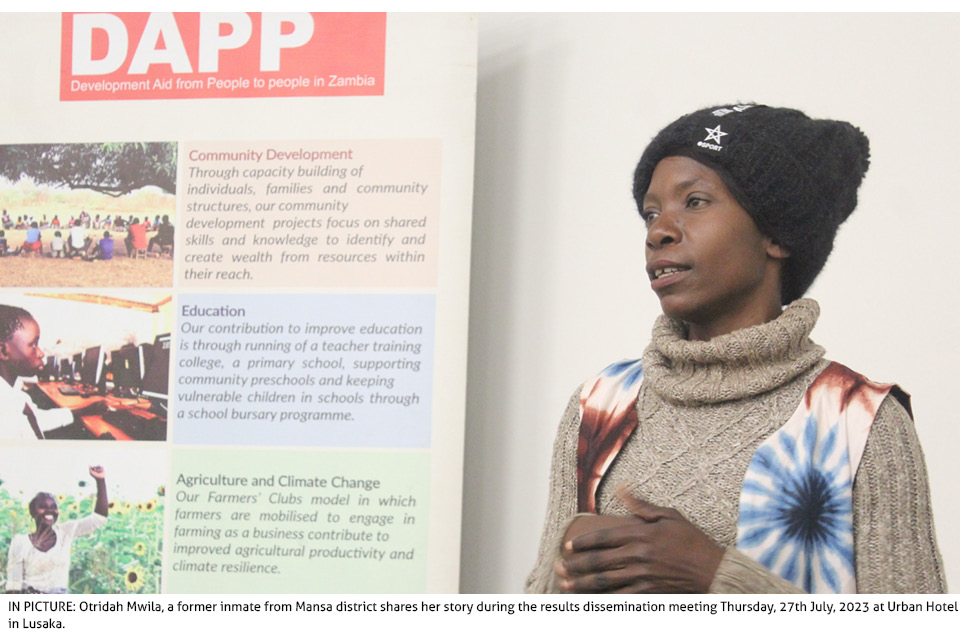 "Thank you very much… If you asked me over a year ago, I would never have imagined that I would be standing in front of you people today. When the judge sentenced me for the offense of theft by servant in Mansa in February 2022, I thought it was the end of the world for me. I was afraid I would be a victim of violence in the correctional facilities, but I was wrong," recalled Otridah.
Otridah is among thousands of inmates who benefitted yearly from DAPP Zambia's Human Rights in Correctional Facilities' project dubbed "Incarcerated Populations' Rights to a Productive Future is their Human Right."
DAPP, in partnership with PANOS carried out the project in six adult correctional facilities and three juvenile facilities from 2019 to March 2023 with funding from the European Union (EU), reaching an average over 2,400 inmates each year.
The project focused on strengthening systems for rehabilitation and reintegration of former inmates and juveniles in conflict with the law in Serenje, Mkushi, Mansa, Samfya, Chinsali and Mpika adult correctional facilities as well as Katombora, Insakwe and Nakambala Approved Schools for juveniles.
"I stand in front of you as a qualified tailor and designer. I did not have this skill before. I learnt tailoring and designing inside the correctional facility with support from DAPP. I was received well by the officers and fellow inmates and a few days later, I enrolled in the tailoring. As a result of this skill, I am making clothes for members of my community and more than five youths are learning tailoring and designing from me," narrated Otridah.
The dissemination meeting was attended by different stakeholders including the Ministry of Community Development and Social Services, Zambia Correctional Services, European Union, PANOS, former inmates and the media.
"Zambia Correctional Services takes pride in the DAPP-EU achievements from this project, among them in rehabilitation, the reduced recidivism in the target Facilities, increased inmate participation in vocational skills, academic support and literacy learning as a direct result of this intervention. The community participation-based approach in the reintegration process also resulted in reduced stigma and recognition of the need for successful reintegration as a requirement for non-reoffending among former inmates," stated Doreen Ngoma, Director of Corrections at the Zambia Correctional Services.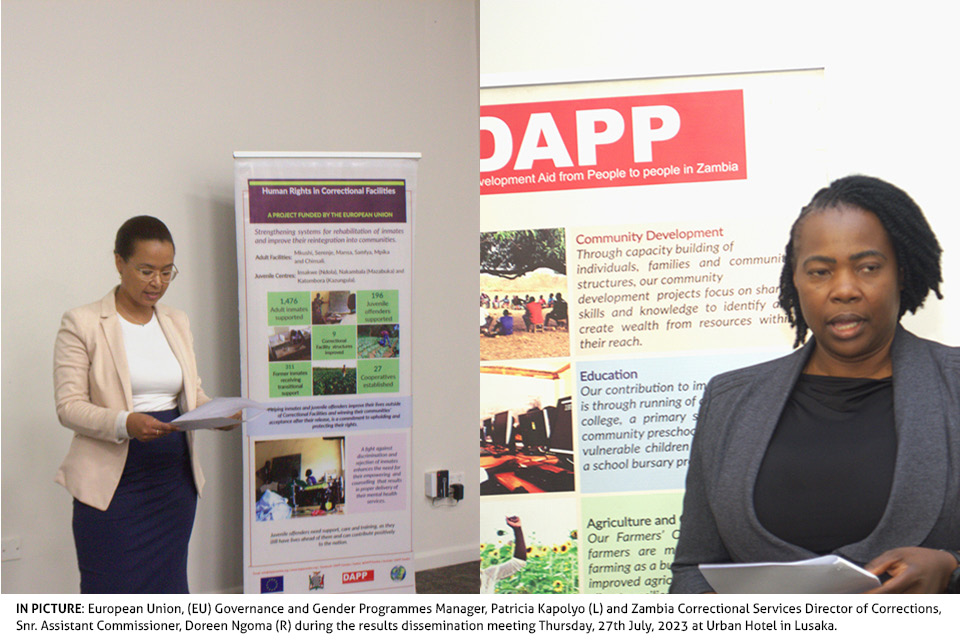 "The European Union is based on a very strong commitment to promoting human rights, democracy and rule of law. These human rights include the people in detention – which are so much at the heart of EU relations in Zambia. …we note and applaud the efforts that we have seen from DAPP and other civil society organisations as well as the correctional service for improving the situation of people in conflict with the law and in detention," stated EU Governance and Gender Programme Manager, Patricia Kapolyo.
According to the final evaluation of the project shared during the meeting, the project recorded a reduction in the number of inmates reoffending after being released in the targeted correctional facilities from 34-percent to 9.5-percent at the end of the project.
The evaluation also disclosed that over 60 cooperatives, comprising former inmates and members of the communities, strengthened reintegration of former inmates and their participation in income generating activities as productive members of society.
"The project had a positive impact on the rehabilitation of inmates and juveniles in the Correctional Facilities and Juvenile Centres in all the nine (9) facilities (100%). The Percentage of Inmates released during the Project making a living off the learnt skills one year after release surpassed the 60-percent target to 83-percent," stated Principal Consultant, Katelema Mapoma of MashMap Consulting Group.
Stakeholders have since called on increased efforts to build on the momentum of the project to continue strengthening rehabilitation and reintegration processes to sustain a countrywide reduction in the number of former inmates going back to correctional facilities.